Operations Overview
Operational excellence is one of the three "value disciplines of market leaders". Our consulting services under operations are focused on helping your company achieve operational excellence.

Operational excellence entails delivering products and services with the highest quality and the lowest cost, and also providing rapid response and customization of products and services. In addition, improving time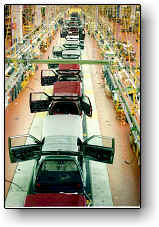 to customer for order through delivery has become a basis of competition in many industries. Therefore, operational excellence will increase customer satisfaction, increase productivity and profitability, and enhance opportunities for revenue growth.
We offer eight principle areas of operations expertise, which are described in subsequent pages:

Manufacturing and Supply Chain Strategy

Lean Manufacturing

Six Sigma

Sales and Operations Planning

Manufacturing Execution

Material Management

Supply Chain Integration

- Supply Chain Optimization

- Procurement

- Supplier Relationship
Management

Enterprise Applications (ERP and SCM)

Operational excellence is not simply an attainable plateau. It must be a continuing journey. We will help your company to implement transformational change, applying industry best practices, including application of Lean Manufacturing and Six Sigma.

For additional information see the white papers "Transforming Business Performance", "Business Excellence Disciplines of Market Leaders", "Benchmarking Business Performance", "Benchmarking Productivity", "Benchmarking Operational Performance", and "Inventory".