Supply Chain Integration
In today's business environment, OEMs no longer compete as autonomous corporations. They actually compete in terms of their integrated supply chains. Customers are seeking customization, rapid response and excellent service. Therefore, it is essential for both OEMs and their suppliers to synchronize their activities.

To achieve synchronization, manufacturers are embracing the concept of an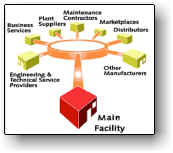 extended enterprise, including the manufacturing company, its customers and suppliers. This approach stresses the importance of both collaboration and shared business processes between enterprises. Also, it considers the full product life cycle, beginning with product development and ending with after-market support.

An integrated supply chain provides the foundation for a lean enterprise. It will optimize the application of resources across the supply chain. It substitutes information for inventory.
We offer three principle areas of supply chain expertise, which are described in subsequent pages:
Supply Chain Optimization
Purchasing/Procurement
Supplier Relationship Management

For additional information see the white paper "Synchronizing the Supply Chain".