Lean Manufacturing
Has your company realized the benefits of lean manufacturing? Lean manufacturing is a systematic approach to eliminating waste in all processes. Examples of waste include over-production, time spent waiting, transportation of units, over-processing, inventory, excessive motion, defective units, and under-utilization of the capabilities of people.

Benefits of lean manufacturing include reduced product cost, higher quality,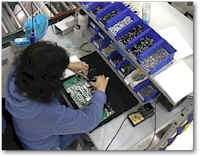 increased productivity, shorter production time, reduced inventory, reduced floor space, more effective asset utilization, and increased flexibility.

Originally developed and perfected at Toyota during the 1960's and 1970's, lean has become the gold standard for world-class manufacturing. Lean manufacturing is widely adopted in the automotive industry by OEMs and tier-1&2 suppliers. It is being adapted and applied in other industries, including aerospace & defense, consumer electronics and computers.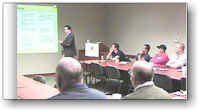 Some companies in other industries with low production rates and/or high product mix, including design-to-order and build-to-order, question whether lean applies to their business. However, the benefits of lean can be realized in a low-rate/ high-mix environment by using an effective implementation strategy.

We can help your company implement a lean manufacturing strategy tailored to the special needs of your business.

For additional information, see the white paper: "Lean Manufacturing Disciplines of Market Leaders".