Merger & Acquisition Integration
Mergers and acquisitions (M&A) are often the fastest and most efficient way to achieve corporate growth objectives, to expand offerings to customers, add new markets and channels, and develop strategic capabilities.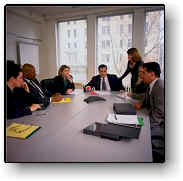 Furthermore, in some industries consolidation is both an opportunity and a strategic imperative. However, the record shows that many M&As fall short of the partners' expectations for strategic fit and financial performance, and some are acknowledged failures. The three most frequent reasons that M&As do not meet expectations are ineffective integration, conflicting corporate cultures, and overestimated synergies.

We view M&A integration as a strategic business process, and recommend that planning for successful integration must begin during due diligence. Successful M&A integration requires:
A sound integration strategy


An integration leader and focused integration teams


A systematic rapid integration plan with measurable targets and milestones


Sensitivity to the concerns of customers, employees and suppliers


A comprehensive communication plan with frequent communication to all constituencies


A sense of urgency

We can help your company plan and execute successful M&A integration. Prior to closing the deal, we can also help you develop a realistic assessment of synergy in the acquisition, which will determine what should be integrated, why and how, to realize the expected benefits of synergy.

For additional information see the white papers "Guidelines for Successful M&A Integration" and "M&A Integration Disciplines of Market Leaders".