"Manufacturers across industries can benefit from lessons learned by Aerospace and other complex manufacturers' use of systems engineering. While not apparent in the terminology, it is an effective approach to ensure that technical, supply chain, and customer requirements are coordinated across a distributed design team."
AMR Research

Systems Engineering
Systems engineering is a required core competency for companies that develop and produce complex products, such as aerospace primes and automotive manufacturers.

Systems engineering is an interdisciplinary approach encompassing the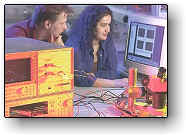 entire technical effort to evolve and verify an integrated and life-cycle balanced set of system people, product, and process solutions that satisfy customer needs. It is a disciplined process that develops, matches and trades off requirements, functions, and alternative concepts to achieve a cost-effective product responsive to the voice-of-the-customer.

The systems engineering process involves a decomposition
and integration of design requirements, plus definition and
control of interfaces (physical and functional) , flowed down
from system to subsystems to components. This allows multiple subsystem development teams including suppliers to collaborate successfully to reach the common goal.

A sound systems engineering strategy will create modular product platform architectures, which accommodate upgrades and addition of features and functions over multiple generations of products.

We can help your company learn and apply systems engineering best practices, which will enhance the effectiveness of your product development program.

For additional information see the white paper "Systems Engineering".