Program Management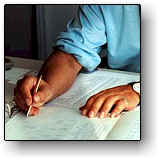 A project is work performed one time to produce something unique. Every company has a variety of projects over time, ranging from small-scale to large-scale, including product development and infrastructure projects. A program is a set of related projects, which must be synchronized to meet overall business objectives. Does you company consistently execute successful projects and programs?
Beacon's experienced staff of professional program mangers help you achieve the objective of program management which are to meet essential program goals and objectives: perform the scope of work and accomplish all deliverables; meet the specifications for deliverables; meet the schedule; and stay within budget.
Our staff understand and ensure that the critical success factors for effective program management are met:

Program managers/project leaders have the necessary authority

Program team has the necessary critical skills and sufficient dedicated staff

Creation of a comprehensive plan, which establishes what and when task will be done, who is responsible, and the budget, as a basis for measuring and managing progress

Effective measurement and control in relation to the plan

Effective communication among the program team and all stakeholders

Effective risk and change management

Management support

Let Beacon help your company learn and apply program management best practices, to ensure the success of your next program.

For more information on program management best practices see the white paper "Program Management Practices of Market Leaders".