Strategy Execution
Strategy execution is all about translating strategies into action plans that delivers and measure results.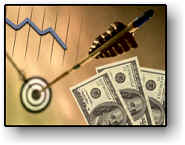 Beacon's Strategy Management Process is based on the premise that in order to achieve your company's financial performance goals, it is necessary to install the key business processes necessary to support your strategy. To effectively executing these key business processes, your must install the necessary people, process, procedures, skills and enabling technologies. We will help you develop a comprehensive strategy management framework which links the cause and effect relationships among all the various elements required for successful realization of your business strategy.

Beacon's Strategy Management Process helps you develop a Performance Scorecard that drives the execution of your strategy. The process documents your company's strategic objectives, identifies industry best practices, key metrics and the target values to be achieved by milestone dates, and specifies the specific initiatives designed to achieve the objectives. Each initiatives has an action plans and responsible leaders. Progress is monitored as a regular senior leadership review process, in parallel with the financial review process.

Many companies have been frustrated that their improvement programs have had limited impact on financial performance. However, the extent of performance improvement that can be achieved usually depends on the breadth and depth of change. Beacon's Strategy Management Process will enhance the effectiveness of various improvement methodologies, including a company's existing Lean and Six Sigma programs.

For additional information see the white paper "Translating Strategy Into Superior Results".