Strategy Overview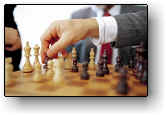 Does your company have a compelling vision of the future of your industry, a competitive business strategy, and effective plans for executing the strategy? Are your business processes, organization and information technology aligned to the strategy and focused on delivering value to customers? Are your budgets and resource allocations consistent with the strategy?

We can help you address your company's most challenging business issues. We offer four strategy services, which are described in subsequent pages:
Strategic Planning
Strategy Execution
Merger & Acquisition Integration
Change Management
In their classic book "The Discipline of Market Leaders", Michael Treacy and Fred Wiersema make the case that market leaders achieve excellence in three value disciplines: customer intimacy, product leadership and operational excellence. We will help you build a strategy and implement transformational change in your business processes and organization, designed to achieve excellence in these essential value disciplines.